Roll bending machine
Kawasaki Trading has delivered Roll bending machine that enhance the precision of steel rolling operations to leading industries.
For inquiries
Sec. 2, Industrial Plant Dept., West Japan Sales Division
Three-rollers bending machine
This is all-in one type roll bending machine in which end bending and bending over are also available. Detailed specifications such as bending width and applied force can be customized to your needs. Moreover, since all the load is born by the machine, it can be installed with minimal foundation work. Additionally, as a control option, automatic operation is supported to minimize operator intervention.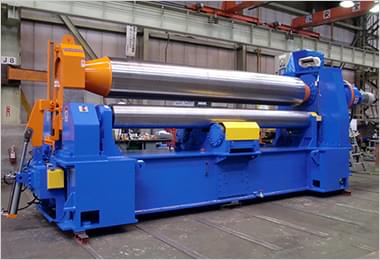 Manufactured by