"MISTRINA" oil mist collectors
Oil mist collectors for improving workplace environments
Developed from the know-how of a testing and analysis organization, the new DSP series brings top-runner motor regulatory support to the MISTRINA lineup of highly efficiency oil mist collectors.
Moreover, the DSP series feature a new low-profile model in the SH.
Uses
Removal of oil mists generated by machine tools (NC turning machines, machining centers, milling machines, grinding machines, etc.), forging machines, die cast machines, washing units, vacuum pumps, gas turbines, etc.
For inquiries
Sec. 2, Industrial Plant Dept., West Japan Sales Division
What is the "MISTRINA"?
The MISTRINA is an oil mist collector developed by an environmental monitoring organization that maintains its oil mist removal performance over long periods of time. It employs a special coalescing filter.
MISTRINA is the oil mist collector for customers who desire a clean manufacturing environment.
Features
Compatible with top-runner motor regulations (DSP-I excluded)
Special coalescing filter employed
Maintains its initial removal performance for a long period of time, thus drastically reducing the need for maintenance. Filter replacement is selectable between 1 or 2 time/year. Traps oil with a specially designed filter. Trapped oil can be drained as a liquid and recycled.
Power-saving and fast airflow
Realizes a faster airflow than earlier mist collectors at the same output (power-saving effect). Moreover, airflow can be controlled to the source by an inverter.
Applicable with both insoluble and soluble mists
Can remove smoke and mists caused by insoluble and soluble cutting oil.
Made of highly durable stainless steel
Fan and filter unit can be separated and installed apart.
Once installed, spec upgrades require just parts replacement.
Features of the special coalescing filter
Unlike earlier filters, the special coalescing filter prevents any drop in process airflow.
Absorbed mists are removed by a thick filter.
Trapped mist forms large droplets inside the thick filter and drains to the bottom under gravity.That creates new filter space.
New filter space opens up at the top of the filter, preventing any drop in process airflow.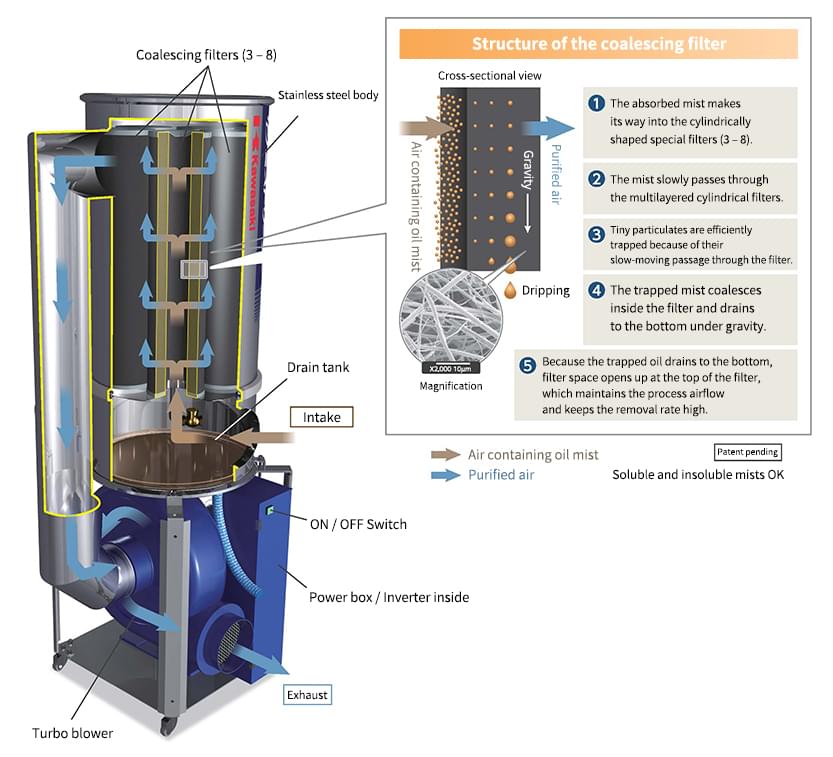 Specifications
Removal rate: 99.5% or more (≧ 0.3 μm mist)
Rated voltage: 3-phase 200V AC
Airflow rate: 12 – 40 m3/min [0.4 – 2.2 kW]